Crossbows are becoming an increasingly popular piece of hunting equipment. 
Not only are they a bit easier to use than traditional compound or long bows, but they can improve your bow hunting experience with greater speed and better accuracy. 
Because they are so quiet, and bring added speed, distance and accuracy to your hunting game, you are likely considering a switch from your compound bow or longbow, to a new crossbow. 
Materials
All stainless steel components, Realtree Extra Camo
Composite stock with Fiberglass Quad Limbs
Composite stock, machined aluminum risers
Composite, machined aluminum rail, aluminum riser
Scope
TenPoint 3x Multi-Line Scope
The big question that you may be asking yourself, about buying a crossbow, is how much should you spend. 
Should you buy the most expensive crossbow on the market, or can you get away with something more affordable for your pocket book? 
In the case of crossbows, you can get a great product for a reasonable price. You don't have to worry about skimping on quality either. 
But how do you know which crossbow is going to be both easy on your wallet, but also a reliable hunting tool? 
Well, you could spend hours and hours doing online research or you can go to your local hunting store and spend hours and hours with a salesperson that may or may not know anything about crossbows. 
Or, you can stop right here. 
In this article, we've put together our top picks for crossbows that won't hurt your pocket book, but are also quality products that won't let you down on your hunting trip. 
Once we're done telling you about our picks for affordable crossbows, we'll delve into the burning questions that you likely have about owning a crossbow.
So, here's what you need to know about the best, affordable crossbows on the market today.
Our Reviews Of The Best Crossbow
#1 Barnett Whitetail Hunter II Crossbow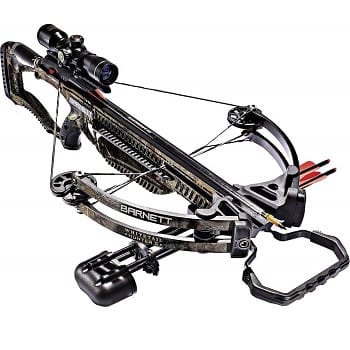 Spend less time inside going through an assembly guide, and more time in the field stalking big game. 
The Whitetail Hunter II comes mostly assembled with all the staple accessories you need. 
A light overall weight, impressive speed and a manageable draw weight makes it an ideal bow for crossbow hunters of all skill levels and sizes – especially those with smaller frames.
When it comes to accuracy, the Barnett Whitetail Hunter II Crossbow is a top choice for any hunter. 
Featuring a TriggerTech Frictionless Release Technology, arrows are not restricted at any point. 
The lightweight and compact design ensures that trekking through the woods and setting up in your stand is as hassle-free as possible. 
Whether it's your first crossbow or your fifteenth crossbow, the Whitetail Hunter II checks every box you look for in a reliable and effective bow to take on your next hunt.
Featured specs
Axle to axle 16.125, Draw weight: 150 lbs.
Benefits
Accurate, easy to assemble, lightweight and maneuverable.
Drawbacks
It is a little loud, the power generated could be higher.
Extra features
Rope cocking device, lightweight quiver, two 20" headhunter arrows, lubrication wax, made in the USA.
Buying advice
Overall, the Barnett Whitetail Hunter II is one of the best hunting crossbows on the market for its price.
#2 CenterPoint Specialist XL 370 Camo- Crossbow Package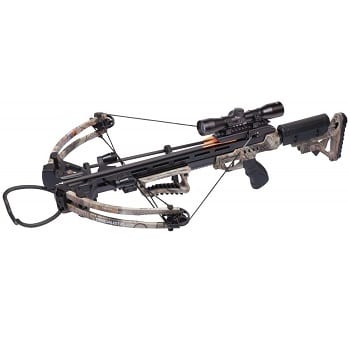 Every hunter, novice or professional, knows that in order to hunt effectively, one needs to have the perfect hunting equipment. 
A crossbow is an excellent hunting apparatus that brings precision to the table. The problem for most hunters, however, comes in finding the most suitable bow for their needs. 
If you are a passionate hunter looking for a crossbow to go with on your next hunting exploits, you might want to consider the CenterPoint Specialist Crossbow XL 370 Camo package.
Featured specs
Axle to axle 18.00, Draw weight: 185 lbs.
Benefits
Lightweight & durable, accuracy is great, good value for money.
Drawbacks
Scope is cheap, the adjustable stock sliding rail rattles, could be quieter.
Extra features
AR style butt stock, three 20 inch carbon bolts, quiver, rope cocker and sling.
Buying advice
It's everything you need to start shooting right away…just add some broad heads and some more arrows.
#3 CenterPoint Tormentor Whisper AXCTW185CK Compound Crossbow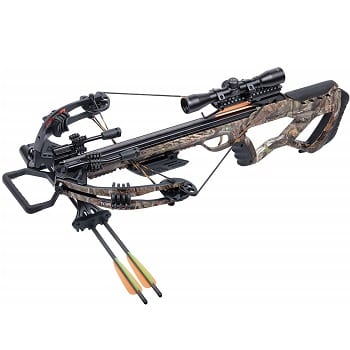 CenterPoint Tormentor Whisper 380 Crossbow offers a lightweight, durable CNC-machined rail with shoot-through riser and integrated Picatinny rail. 
It has a draw weight of 185 lbs and shoots up to 380fps. 
The Tormentor whisper 380 has an all-weather composite stock with rubber padded grips for comfort and convenience. 
The anti-dry fire and auto-safety mechanism ensures nothing happens until you say so.
This crossbow has a whisper silencing system that includes two string stoppers with silencers and two limb dampeners, two spider silencers for the ultimate in noise reduction and vibration control.
Featured specs
Axle to axle 14.00, Draw weight: 185 lbs.
Benefits
Compact design, super quiet and fast, very accurate.
Drawbacks
Scope is not great, the strings became frayed, quiver bracket is cheap.
Extra features
Includes three 20" 425gr carbon bolts with field tips, quiver, rope cocker and 4x32mm crossbow scope and Whisper silencing system.
Buying advice
Purchase some extra arrows, better quiver and inspect that no damage during shipping.
#4 Wicked Ridge by TenPoint Invader G3 Crossbow Package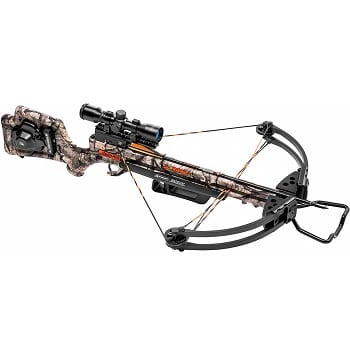 Winner of the Outdoor Life Great Buy and Petersen's Hunting Best Value awards, the Invader G3 is the safest, lightest, narrowest, and fastest Wicked Ridge Invader model to date. 
The new Wicked Ridge Invader G3 Crossbow Package is a total makeover of the successful Invader predecessor. 
The Invader G3 delivers bolts into game at 330 fps, and with a hard hitting 96.7 ft. lbs. of kinetic energy delivers accurate power on every shot.
This Powerful crossbow comes equipped with a TenPoint 3x Multi-Line Scope, instant detach 3-arrow quiver, and three carbon arrows to get you shooting even faster. 
Head straight to the woods with this complete crossbow package from Wicked Ridge.
Featured specs
19″ Axle-to-Axle (cocked),165 LB. Draw Weight.
Benefits
Easy assembly, very accurate, super light, fast, great scope.
Drawbacks
Could be a tad quieter, scope did fog up in rain.
Extra features
ACU-52 cocking device, TenPoint 3x Multi-Line Scope, Wicked Ridge 3-Arrow Quiver and 3 Carbon Arrows.
Buying advice
The best crossbow value on the market today.
#5 CenterPoint Sniper 370- Crossbow Package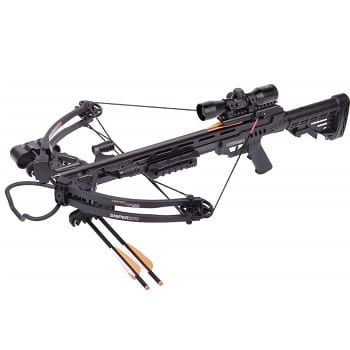 Hit the mountains and bag your prey with the CenterPoint Sniper 370 Crossbow Package, which features a crossbow with composite quad limbs fitted with a precision CNC-machined cam system to offer high speeds. 
The fully adjustable stock and pass-through fore grip support various shooting styles, while the integrated string suppressors help deliver quiet and vibration-free performance. 
The Sniper 370 is a great-shooting crossbow for an even greater price. The Sniper 370 is easily maneuverable with a comfortable 185 pound draw weight. 
Rounding out the package the Sniper has integrated string suppressors to keep shots quiet and vibration-free. 
To sweeten the deal, the package also includes a 4×32-mm scope, 3 20-inch carbon arrows, quiver, rope cocker and an anti-dry fire/auto safety mechanism.
Featured specs
Axle to axle 18.00, Draw weight: 185 lbs.
Benefits
Easily maneuverable, integrated string suppressors, easy to assemble, easy to cock.
Drawbacks
Quality of the limb, strings had frayed.
Extra features
Tactical AR style adjustable stock, adjustable fore grip and picatinny rail. Includes 4x32mm scope, (3) 20 inch carbon bolts, quiver and rope cocker. 
Buying advice
Be aware that this crossbow is not compatible with cranking aid devices.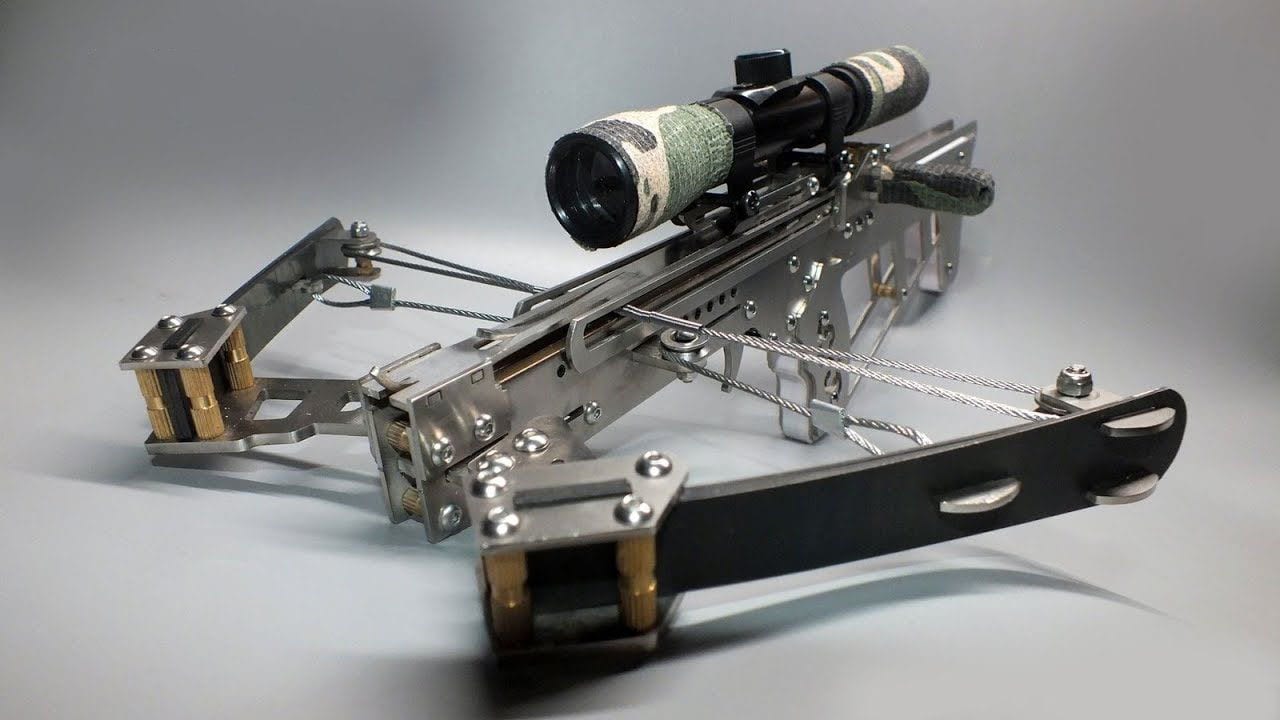 So now that we've given you our favorite crossbow packages that are not only a great hunting tool, but are also easy on the wallet, it's time for us to answer some of the burning questions about crossbows. 
We wandered through the internet, and found some of the most frequently asked, basic questions about crossbows and crossbow ownership. 
We've compiled those frequently asked questions, and their answers right here. We've done all the work, so you don't have to.
Do you need a license to own a crossbow?
This can be a confusing question for many first time crossbow owners. 
Because crossbows can be considered, and in many states are considered, firearms, there can be confusion about whether you need a license to on a crossbow. 
What makes this question tricky is that many crossbows have a very high firing rate, though no combustibles are necessary to move the projectile. 
In the United States, federal firearm regulations were drafted before crossbows became popular hunting tools. 
This in general makes them legal to own for any individual under federal law. However, states are allowed to make their own, more stringent laws about crossbow ownership. 
While most states do not require a license to own a crossbow, there are some states that do require specific licensing and training for crossbow owners. 
The best advice that we can give in regards to owning a crossbow, is that you should do your research before you buy. 
Make sure that you are fully aware of the laws that pertain to crossbow ownership in the state that you live in and will be hunting in. 
Keep in mind that the laws that pertain to crossbow ownership in one state, may not apply in another state. 
If you travel across state lines to hunt, understand that hunting illegally with a crossbow can quickly ruin a great hunting trip.
Are crossbows illegal?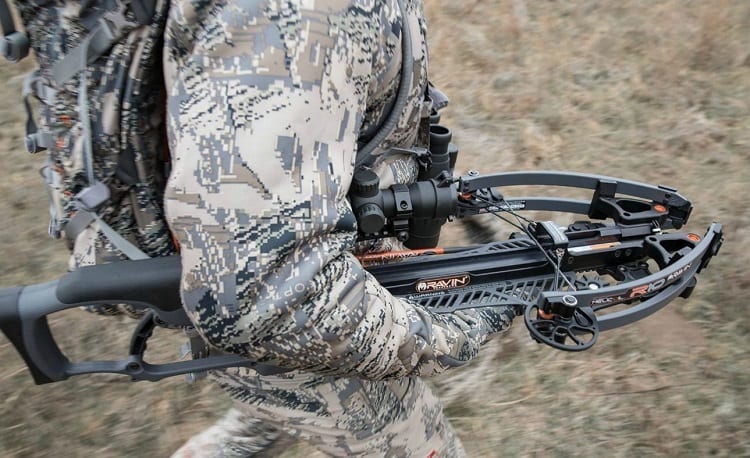 We've discussed this in the previous section. Under federal firearms regulations, crossbows are considered legal, and can be owned by any individual that is capable of using said firearm. 
The purchase of crossbows may have varying requirements from state to state, and there may be licensing requirements depending on where you live. 
The only state in the US that considers crossbow hunting illegal is the state of Oregon. Oregon has very stringent firearms regulations and does not allow hunting of any type with a crossbow. 
Oregon has such a firm stance on crossbow hunting, that they do not even allow disabled or handicapped hunters to use a crossbow as an alternative to compound and longbows.
While most states allow crossbows as legal methods of hunting, it is important that you understand the laws that pertain to crossbows from state to state, especially the states that you will be hunting in, most frequently.
Most states have limitations to when crossbows can be used for hunting legally. 
Using your crossbow as a hunting tool outside of these times can result in hefty fines, loss of hunting licenses, confiscation of hunted animals, and in some cases jail time. 
Any of these options can really ruin a great hunting trip, so it's important that you familiarize yourself with local crossbow hunting rules, before you are in the field.
Here are some common variations to crossbow hunting laws that you might find from state to state:
Crossbows allowed only during firearm seasons: Some states that consider crossbows as powerful as rifles or shotguns will only allow crossbow hunting during firearm seasons. In these states bow hunting seasons are limited to compound or longbow hunting only.

Crossbows allowed only during archery seasons: This is not very common either, but there are states that consider crossbows in the same category as compound and longbows, so allow their use during archery seasons only.

Crossbows allowed only for certain game animals: This is more common across state lines. Many states will allow you to hunt with a crossbow during regular seasons, for specific game animals only. Some states even go so far as to designate particular times during each game season when archery hunters can hunt without competition from firearm hunters. One of the most common limitations to game animals that cannot be hunted with a crossbow is waterfowl.

Training required before getting a license: Some states will only allow you to hunt with a crossbow after you have taken a state approved class on crossbow hunting. Many states have similar requirements for firearms licenses, however, there are only a handful of states that have this requirement for crossbows.

Variances for disabled, elderly or handicapped hunters: In some states, the only people that can hunt legally with a crossbow are those hunters that are disabled or are over a particular age. Crossbows can be easier to shoot for these individuals, and may be a more logical option for hunters that have limited mobility or reduced strength due to aging. There may also be limitations for these hunters in regards to which months they are allowed to hunt with their crossbow.
Our best advice when it comes to the legality of using your crossbow, is to research, research, and research. 
It is never a good idea to cross state lines to crossbow hunt, without knowing what is legal. 
Hunting illegally with a crossbow, whether it is without a proper license, or outside of allowable hunting times can really ruin a great hunting trip.
What is a crossbow used for?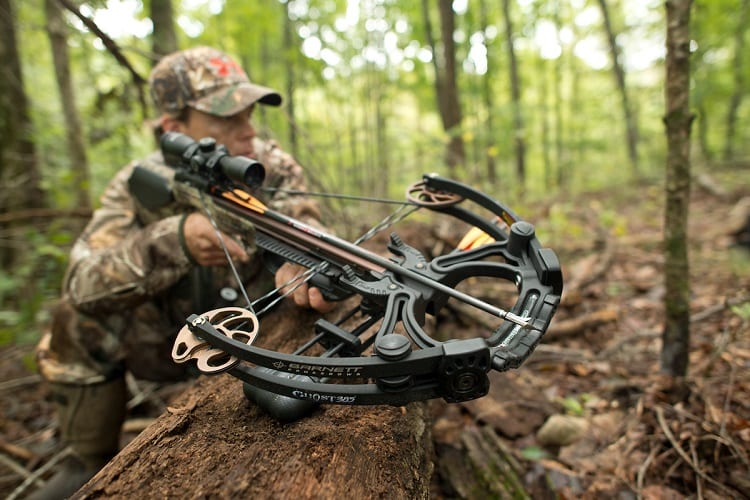 A crossbow is an alternative option to the more traditional bows on the market. 
Many bow hunters find that the crossbow provides a different level of hunting success, depending on the game animal, than using a compound bow or longbow. 
While the more traditional bow hunting tools, for these hunters may be great for smaller game or waterfowl, when it comes to hunting large game like deer, elk, moose, caribou, or even bear, crossbows can bring a distinct advantage. 
Because crossbows function more like a firearm, thanks to added speed and a quieter release, they are a great way to hunt larger game, from a longer distance. 
Traditional bow hunting equipment like compound bows and longbows generally require the hunter to be fairly close to their target animal. 
Often times, the sound of the bow, or the time necessary to line up a shot, with traditional bows, can spook your target, resulting in a missed shot or an ineffective and inhumane hit. 
Crossbows allow a hunter to give more separation between themselves and their target animal. 
This added distance, combined with a quieter release increases the bow hunter's ability to make an accurate shot that is more effective and more likely to be a humane blow.
Crossbows are also becoming a popular alternative to firearms for big game hunting. 
With greater draw weights, fast release speeds, and higher grain broadheads, crossbows are a great alternative to hunting big game. 
Larger size broadheads can create larger, lethal wounds that allow for increased blood loss, which makes it easier to find your target and have a better chance of a kill with a single arrow. 
For some hunters, the reason to use a crossbow as an alternative to a firearm is a way to be closer to nature and to hunt using a tool that has limitations to distance and destructibility. 
Some hunters find that this makes hunting more "fair" to game animals. 
For other hunters the idea of using bullets or buckshot may not be as appetizing, when it comes time to eat their game. 
There are concerns from some hunters as to the safety of the projectiles from guns. Using a non-combustible means of hunting eliminates this worry for some hunters.
Who invented the crossbow?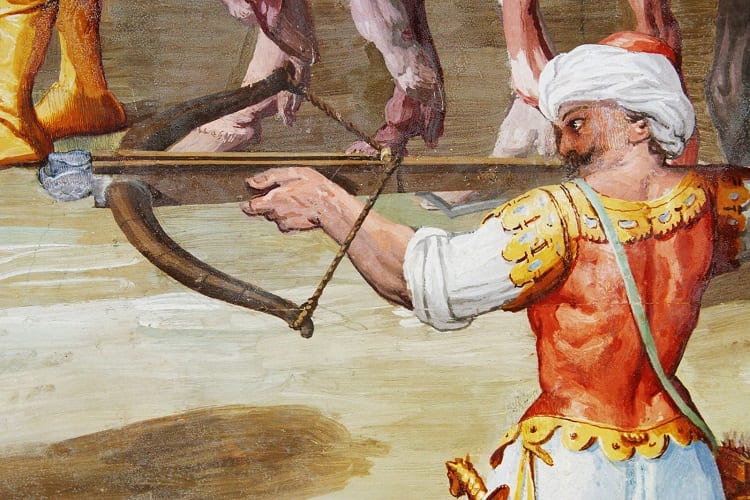 The crossbow has been around for a very, very long time. 
As a weapon, it is hard to place a name to the exact person that first invented the crossbow, simply because it has been used for hunting and warfare for so long.
The first recorded evidence of crossbows can be traced to Europe and China between 1 AD and 4 AD. 
The earliest examples of crossbows were much simpler than the crossbows that are used today. 
However, the principal of operation of these early weapons was very similar to the function to today's crossbows. 
Early crossbows were infrequently used for hunting game. They were originally created as a weapon that could be fired with more ease and accuracy from horseback. 
While longbows were still a good military tool, the soldier equipped with a crossbow was more effective at hitting military targets. 
Early crossbows allowed soldiers to shoot with one hand, make lethal shots, and do all of this while riding at high speeds on horseback.
The Chinese were even successful at creating the first repeating crossbow, which is the predecessor to the modern "semi-automatic" and "automatic" weapon. 
These handy tools would allow a Chinese soldier to shoot multiple arrows, without needing to stop. 
This invention significantly increased the lethality of Chinese soldiers, and made Chinese troops nearly unstoppable during times of war.
When it comes to the modern crossbow, there is no one particular individual that can be attributed to the invention of the hunting tool that is used today. 
Manufacturers have each developed their own distinctive style of crossbow, many with proprietary features. 
However, they all have their foundations in the traditional crossbow invented thousands of years ago.
So, there you have it. Our favorite crossbows, and some great information to help you better understand the basics of crossbows and crossbow laws. 
We love to hear from our readers, so if you have a crossbow that you love that is not only great to use, but is affordable, or if you want to add your thoughts to our FAQs, let us know what you think in the comments. 
Happy hunting!
Did you like the article? Please rate it: