It's time to hit your mark in a whole new way.
Whether it's competitive sport archery or you're taking this hunting with you, hitting your target is, well, it's the entire point.
Unfortunately, it's not like you're out doing archery every single day, so it's easy to get rusty. We're here to help with that.
Size
Multiple surfaces add up to over 100" of space
Best for Compound/Recurve
The right archery targets will give you a helping hand, and a competitive advantage by keeping those skills sharp as your arrow tips.
Some are good for field points, some best for broadheads, others designed for powerful crossbows and compound bows.
We've spared no expenses—the best archery target for your bow type and shooting style is on this list, and it's going to give you so much more practice than you're getting now.
We've taken budget prices, quality, and overall weight of each target into account.
Whether you're a newcomer or a seasoned professional, practice does make perfect, so let's hone those skills a bit, shall we?
Our Reviews Of The Best Archery Target
#1 Morrell Double Duty Archery Target
It's hard not to be overly excited when writing about this one, but here goes: there's nothing better.
No, seriously.
Morrell managed to make this thing practically indestructible, and viable for endless hours of target practice.
It's the best crossbow target, the best recurve target—anything but bullets, and this thing is going to stop them.
Coming in at 30 lbs, the power of and arrow isn't going to stop it or push it to the side.
That's one of the things that everybody loves about Morrell: double duty means double duty. That weight is able to stop 400 FPS, though the side says up to 450.
Do you know how much power that is?
One of the strongest recurve bows on the market can hit this at full speed, and still not knock it over.
Morrell made this with inaccuracy in mind.
It's a possibility that you won't hit within 30% of the central target mark, and that's okay—even if you hit this on the corner, it's going to stop with as much oomph as if you hit the bullseye, straight in the center.
That's some powerful stuff.
You also get two carry handles on the corners to make this easy to pull up onto the bed of the truck before you leave.
With four sides to enjoy, you can puncture endless arrows through this and still have plenty of canvas left to paint on, so to speak.
It's simple as can be to remove arrows from the side, and will give you basically no trouble.
What's more is Morrell includes a two-year warranty.
To provide a warranty on anything that is literally designed for driving steel through, puncturing, and beating up as much as possible, it takes an insane company to do that.
Long life on the target, and the last one you'll ever need, hands down.
Technical specifications
Size: 19" x 19" x 19"
Number of Targets: 4
Weight: 30 lbs
Best for Compound/Recurve: Both
#2 Block Classic Archery Target
You're trying to get some value out here, and we can respect that.
So can Block Targets.
They made this the best archery target for the money by expanding the durability of this unit by making it friction-reactive, not force-reactive.
That means you'll have this for longer without it losing its luster.
Easy arrow removal, easier time altogether. Handles on the side make this super simple to just lift up and take it with you wherever you want to go.
You'll have decent visibility of your target from a distance, but it isn't almighty like their marketing materials would suggest. You can only see black and white from so far away.
So it's ultralight, double sided, and it's not using the traditional method of puncture that leaves it looking like a mess.
That's great, but it's not all sunshine. The FPS rating is far behind what the top model is, because around 305 FPS, that's when you can see chunks come out of this.
That's not exactly what you want to see, so depending on the FPS of your bow, you might want to grab something a little bit better.
That being said, it's still fantastic for most bow ranges. Most recurve bows peak at about 280 FPS, but crossbows will pack a bit more of a punch.
It has a good weight to it with 16 lbs, but certain hits might send it knocking over depending on how powerful you are with a bow.
Arrows are easy enough to come out, but be sure to pull them straight.
Technical specifications
Size: 18" x 18" x 13.5"
Number of Targets: 2
Weight: 16 lbs
Best for Compound/Recurve: Recurve
#3 Rinehart Broadhead Target
It's not what you were expecting, but it is what you needed.
Rinehart includes one of the best features in any archery target: self-healing foam. If it sounds crazy, but it works wonders.
Obviously this won't last forever, but the foam fills in like memory foam after you remove the arrows to retain its shape.
It's as if you're just separating the foam, and not actually destroying any of it.
It's one of the best bow hunting target brands out there for this very reason. But the thing is, there's also a total of eighteen sides to shoot at—that's right, eighteen targets.
Despite what it looks like, the target does not glow in the dark, but it does reflect light in the middle of the day off the light yellow colored target rings.
So it looks great and there's plenty of space, but that's not all. A target is only as good as what it can stop, right?
Rinehart has the stopping power to prevent 400 FPS shots from penetrating all the way through.
After testing, it's best to stick around 325-350 FPS (est.) to prevent deep ruptures or damage. Near the 400 mark, we saw plenty of users reporting tears in the foam that didn't heal.
Reinhart guarantees this for a whole year, and for something that they're telling you "Go ahead, shoot it hundreds of times," that's a pretty big commitment.
This holds to the test of time, but keep in mind that it isn't the heaviest archery target out there.
At just under 15 lbs, it'll stop those arrows wonderfully, but crossbow bolts around 350 FPS to the max 400 FPS might knock it over.
No big deal, but something that larger targets just don't have to deal with.
Technical specifications
Size: Multiple surfaces add up to over 100" of space
Number of Targets: 18 (yes, for real)
Weight: 14.8 lbs
Best for Compound/Recurve: Recurve
#4 McKenzie Delta Aim Rite Bear
McKenzie made the best target for broadheads, because you're given so much surface area to sink your arrows into.
With a 45" wide bear body that stands 28" tall, even if you don't hit your mark, you'll land it somewhere on the bear.
Speaking of the bear, it's actually uncanny how realistic it looks from a distance while you're using your bow.
The thing is, it'll stop a lot more power than a real bear would. You can sink in 350 FPS arrows into this from close range, and it'll still stay standing.
The whole thing weighs 22 lbs, which makes it perfect to have stand up on its own out in the middle of a field.
If you literally hit it right on the nose with some 350 FPS action, it might knock back a bit, but it'll stay standing.
With all that surface area, it's going to take you a long time and a lot of Saturday mornings to actually damage this target.
It's fitted to last you for years to come, so you won't be running out to get a new target by Christmas; it's here to stay.
When it comes to arrow removal, that's where we run into some problems. It's easy to remove lubricated arrows, but let's be honest here: not many of us lubricate our arrows.
Wax the bowstrings? Yes. Lubricate arrows?
Not so much. It's not the most integral part to a successful shot, and doesn't have much forbearance (bear pun) on the arrow's life.
Non-lubricated arrows are tough to pull out of this, so proceed with caution.
Grab your kit, use the inclusive metal stakes to drive this into the ground, and get to shooting. It's the best 3d archery target you're going to find.
Technical specifications
Size: 10" x 45" x 28"
Number of Targets: 1
Weight: 22 lbs
Best for Compound/Recurve: Both
#5 Morrell Yellow Jacket SUpreme Target
Good archery targets are made through tons of engineering, and nobody knows more about that than Morrell.
This simple target is designed to act like the baby brother model to our top Morrell pick here on this list, and it works a treat.
With two full targets, you'll get a lot of surface area to tear up over time. The thing is, Morrell doesn't really get destroyed like most targets, it takes a lot of time and a ton of hits.
But the thing is, you can only use field points on this. That's a bit of a bummer, but it's what has to be done in order to reap the rewards.
One of those rewards, as showcased in one of their videos, is how simple it is to remove an arrow or bolt from the target—a guy did it with his thumb and pinky finger, and it came out like a hot knife through butter.
There's a bit of conflicting information from Morrell though, giving separate 320 and 350 FPS ratings for stopping power.
We hit it with a 400 FPS crossbow bolt, and while it did nearly penetrate through the entire thing, it still stopped it.
Morrell is built tougher than they market their targets, it would seem.
With 28 lbs, it's not going anywhere. Hit it as hard as you like. There's 54 layers of arrow-stopping power in there, which is fully weatherproof just like the rest of the thing.
Even when there are arrow holes in the side, it's still resistant to rain, snow, humidity, heat, and whatever apocalyptic weather conditions it ends up getting left in.
If you practice in the same spot (like a privately owned wooded area), you can purchase multiple of these and leave them in key areas to have constant targets.
Technical specifications
Size: 12" x 23" x 25"
Number of Targets: 2
Weight: 28 lbs
Best for Compound/Recurve: Both
Archery Target Buying Guide and FAQ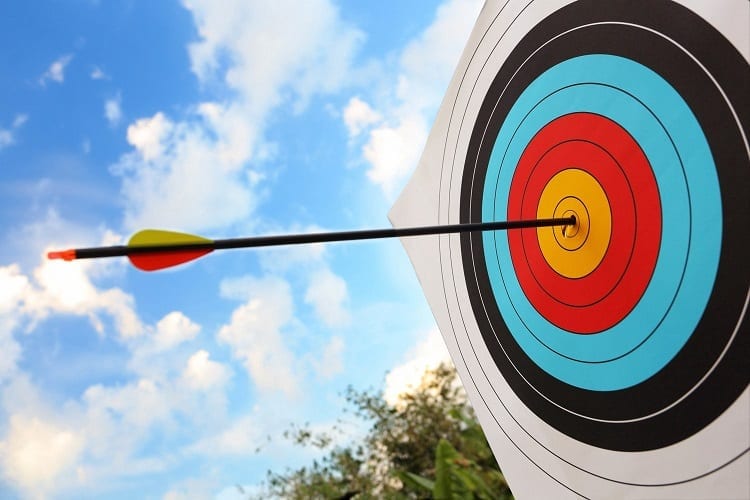 What is an Archery Target Called?
They go by many names, and for many different reasons.
You have archery targets, which are traditionally made of wood and circular.
You have archery bags, which contain layers of proprietary arrow-stopping materials, and they rest on the ground.
Then you have the layers of an archery target: the edge, the outer ring, bull's ring and the bullseye.
Truth is, there are a lot of different archery target types. There's even on (that's on this list) which is just a 3D bear, and that doesn't really have a category.
You could just call that a 3D animal archery target.
What Kind of Foam is Used in Archery Targets?
The best material for archery targets has to be high density foam.
It's not the stuff in your mattress or the packing peanuts that arrive with your Amazon order—it's designed in such a way that it's heavy, unlike the foam we currently know.
It also goes by the name EPE foam, and it's what they use in targets that are actually used in the Olympics. It's pretty cool stuff.
The defining characteristics of EPE or high density foam is the inborn waterproof capabilities.
You don't have to apply a coating, you don't have to treat it, it's just waterproof even after it's been punctured.
It's what allows Morrell to make such weatherproof targets for the outdoors.
EPE foam may be used in different layers, and some targets may have removable cases to allow you to switch out those pads from time to time.
The thing is, EPE foam will usually last for as long as the exterior design on any target will, so you won't have to worry about switching layers out in the future, they will both degrade with the same amount of time.
The number of layers that a foam target has will partially define its stopping power, or FPS resistance.
The individual EPE foam layer density and quality count, and then the number of those repeated one after another count as well.
For some context, Morrell's yellow jacket archery target has 54 layers of foam, and that can stop up to a 350 FPS arrow (it can withstand more, but at a great cost to the longevity of your target block).
What is FPS in Archery?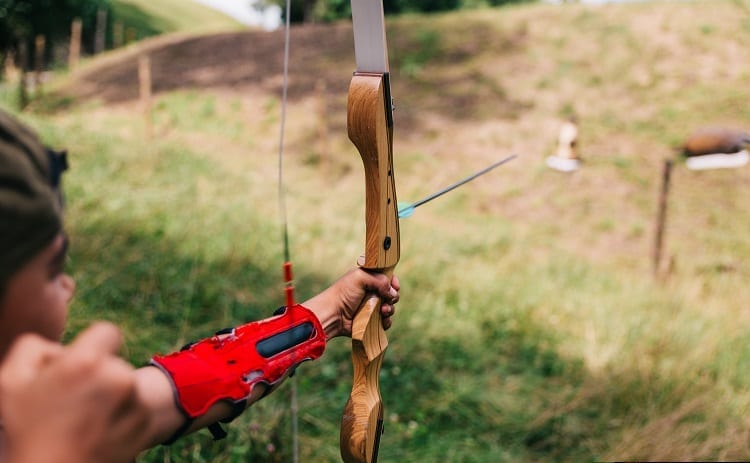 It stands for feet per second, and it's a term used to describe the speed of arrows, and subsequently the power of a bow/draw weight from the user.
You'll see a lot of archery targets boasting about how many FPS they can withstand, and truth be told, they can usually withstand a lot more than what their marketing material says.
For example, Morrell's targets can actually withstand a 400 FPS crossbow bolt, but their information says not to try anything more than a 320/350 FPS (depending on the target).
That's a safe 12.5% reduction in its maximum power, which guarantees safety, and provides a longer life for the target.
How to Setup Your Archery Targets?
It depends on your targets, but for the most part, you can just drop them in the middle of a field and start shooting.
Bag targets, like the ones we've seen from Morrell on this list, just simply need to be placed standing up, and they're good to go.
But that's not every target. 3D targets usually stand tall and are relatively thin, so you'll receive steel or aluminum stakes that you need to drive into the ground, and attach your target to them.
This doesn't take more than a single minute to set up, so stand setup time isn't really a factor we need to consider when making a purchase.
While setting up your target, you need to scope out a safe place; that's half the battle.
You need somewhere that, if you were to miss an arrow, it would simply fly into the woods or a non-populated area.
The backdrop has to be big, and not contain anything that you could damage, apart from a tree limb.
You also want your archery targets fairly close to the ground.
Basically, if you have to arch above your resting angle (aiming your arrow in an upward arc), then the target is too high.
You're at a higher chance of missing your mark and having the arrow land behind it. This means you could lose the arrow, and you're at a higher chance of archery accidents as well.
Can You Put Your Archery Targets in Your Backyard?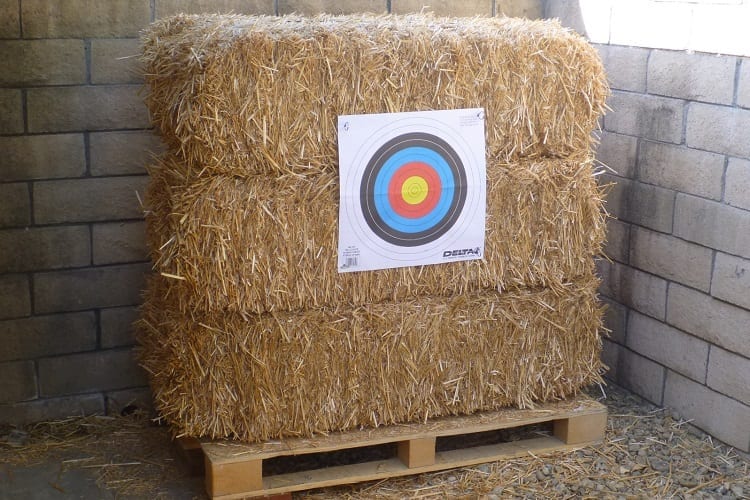 Yes, in some states.
You'll have to check the ever-changing list of laws in your local municipality, as it can be different per town or city.
We would love to get into all the semantics of it, but with how often this information can shift, it wouldn't be wise to do so.
Your local government website will have the proper information for your area.
If it is legal in your area, then shooting in your backyard is fantastic. It's like you're never away from your favorite hobby.
Create a safe outdoor atmosphere, and check it over every single time before you begin your archery practice.
Even if you only need to take a five minute break at one point, check the perimeter before continuing just to be safe.
As a matter of fact, you should just look over this list of archery safety rules to run through as well.
Will a Hay Bale Stop an Arrow?
Yes, a hay bale will stop an arrow, but—and you might be surprised to hear this—it doesn't do as well of a job as manufactured EPE foam.
Hay doesn't get shredded up like a bowl of wheat for breakfast, but it does split and separate more than foam does when an arrow sinks into it.
You'll also need three times the thickness of hay that you would of foam, since we're not 100% certain how tight the hay bale is or what arrows/FPS you're using.
So yes you can, but you have to be a little extra careful with it. Make sure you have a good backdrop just to be safe.
While it's unlikely that you could send an arrow through 30" of hay and have it come out the other side with momentum to injure someone, who really wants to find out?
Line Them Up, Watch Them Fall
You've seen the best targets, found the answers to your burning questions surrounding them, and now it's time to make your decision—which will you go with?
You need to stay on top of your game as many days out of the year as possible, so choose wisely, and select a target that you're going to be able to get the most use out of all year-round.
Did you like the article? Please rate it:
You Might also like