The broadhead, the business end of your crossbow arrow or bolt. 
It very well may be the most important part of your crossbow set up. 
Without the proper broadhead, your hunting trip can go from the best part of your fall to a complete disaster. 
So how do you know which broadhead is the right one for your trip? 
Well, there a number of things that you should consider when you are selecting the right broadhead for your hunting adventure. 
Material
Solid Stainless Steel Ferrule
Aluminum ferrule, stainless steel expandable blades
Stainless steel blades, aluminum ferrule
First, what are you hunting? 
This may be the most important factor for selecting the right broadhead. 
You will want to select a different broadhead for elk or deer or even moose, than you would for smaller game or birds like turkey. 
Another consideration for selecting your best broadhead is whether you prefer fixed heads or mechanical heads. 
We'll discuss the differences later in this article, but once you know what you're hunting, you'll need to decide if you have greater success with a mechanical or a fixed blade broadhead. 
Some of this decision is preference as well. Some people prefer to hunt with one or the other, because that is what they are most comfortable with. 
Finally, you'll want to consider weight. Matching your broadhead with the weight of your bolt or hunting arrow, will make a big difference in travel distance. 
If you select too heavy or too light of a broadhead for the bolt or arrow that you are shooting, it will significantly reduce the travel distance of your bolt, and you'll need to adjust your trajectory when you shoot.
Once you know what broadhead is going to be best for your next hunting trip, which one do you buy? 
There are a ton of great products on the market, and with each manufacturer wanting you to try their product, how do you know you can rely on the one you choose? 
Sure, you can go to your local hunting store, and rely on the advice from some person that might or might not know a single thing about crossbow hunting. 
Or, you can wander the internet reading review after review. 
Or, you can find a great one stop shop that will give you all the information you need to buy the best broadhead for your adventure. 
That's exactly what we've done for you. 
We've scoured the internet, we've visited our local hunting stores, and we've found the best broadheads on the market, for a variety of hunting adventures. 
We've put these amazing products is one easy review. 
Then we scoured the internet some more, and found some of the most commonly asked questions about broadheads, and put the answers here, so you don't have to do even more work, to get the broadhead information you're looking for.
Our Reviews Of The Best Crossbow Broadheads
#1 Muzzy Trocar Crossbow Archery Arrow Broadhead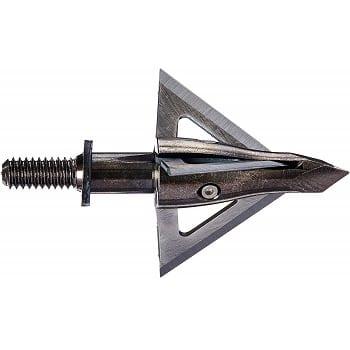 The overall best mechanical broadhead for crossbows, the Muzzy Trocar Crossbow Broadhead features a solid 1-piece stainless steel ferrule and a right offset blade design for exceptional flight and consistency.
With a Trocar tip known for its bone breaking penetration, its super short compact design is best for accurate flight and excellent entry and exit holes for increased blood loss and greater blood trails.  
With outstanding performance on long range shots the Muzzy Trocar is ideal for use on any North American big game.
Featured specs
1 3/16" Cutting Diameter, .035″ Thickness
Benefits
Excellent quality, sharp, tough, and accurate.
Drawbacks
Some blades can come loose, no Allen wrench included.
Extra features
Hardened steel trocar tip provides superior penetration and the solid steel ferrule won't deform or deflect when striking bone.
Buying advice
Muzzy is the number one name in fixed-blade broadheads, made in the USA.
#2 Rage Crossbow X 2-Blade Archery Arrow Broadhead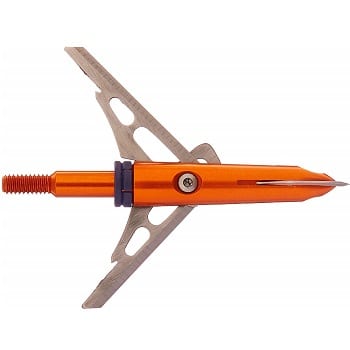 Get all of the crushing penetration the original Rage Crossbow broadhead was known for, with an improved cutting diameter and enhanced blade retention system. 
The Crossbow X utilizes Rage's shock collar system for improved blade retention at higher speeds. This broadhead provides field tip accuracy with a devastating 2″ cutting diameter.
Rage broadheads are known for their accurateness and their legendary wound channels. Choose reliability…Choose Rage.
Featured specs
Rear-deploying, SlipCam design, 2″ cutting diameter.
Benefits
Blades are replaceable, flies true, gives you great blood trails.
Drawbacks
Missing practice broadhead, the blade opening malfunctions on occasion.
Extra features
Specifically designed for use in a crossbow.
Buying advice
Test them before you go hunting.
#3 Excalibur X-Act 100 Grain 3-Blade Mechanical Broadhead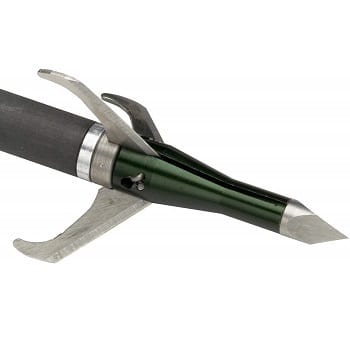 This 100 grain broadhead from Excalibur is designed for the hunter who desires maximum velocity from their crossbow but refuses to take less than outstanding accuracy. 
The X-Act broadhead comes equipped with its "Clip-Loc" blade control system, which holds blades steadily during a crossbow's fiery acceleration, eliminating the need for "O-rings" or rubber bands, but deploying the blades reliably on impact.
Featured specs
Cutting diameter: 1-7/16″
Benefits
No O-rings, "Clip-Loc" blade control system is great, accurate.
Drawbacks
No practice head included.
Extra features 
Specially designed for crossbows.
Buying advice
These are an ideal match with an Excalibur crossbow.
#4 Grim Reaper Razor Tip Whitetail Special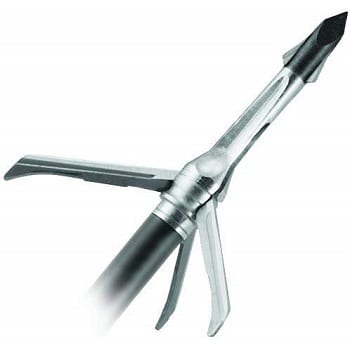 The Whitetail Special Grim Reaper Razor Tip broadhead is specifically intended for higher kinetic energy bows and whitetail-sized game. 
These whitetail special broadheads feature a shattering 2″ cutting diameter. 
They combine the accuracy and speed of a mechanical head with the bone-splitting robustness of trocar tips and fixed blades. 
They are quiet, reliable, and make some pretty impressive holes.
Featured specs
.035 thick 440 SS blades, 2″ cut diameter
Benefits
Awesome blade retention, don't rattle in quiver, huge wound channels.
Drawbacks
Aluminum ferrule, lacks durability.
Extra features
Includes practice head.
Buying advice
Specially designed for higher kinetic energy bows and Whitetail sized game.
#5 Wasp Crossbow Broadhead Jak X Mechanical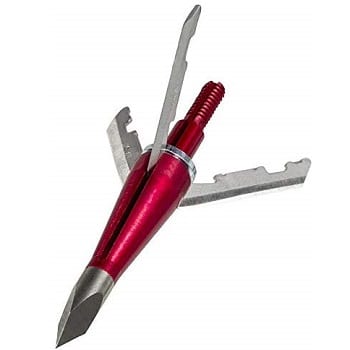 Designed to exceed the demands of serious crossbow hunters, the JAK-X Crossbow by Wasp, features the Stainless Steel Smart Tip (SST), guaranteeing supreme penetration by creating a straight cutting path through whatever gets in its way.
The dual O-ring system preserves the blades during flight and assures proper deployment upon impact, even when fired from crossbows at 380+ FPS. 
Upon impact, the stainless steel blades of the broadhead fold back to a vast cutting diameter of 1-3/4 inches, resulting in swift kills and easy-to-follow blood trails.
Featured specs
1-3/4″ Cutting Diameter.
Benefits
Blades are easily replaced, great accuracy, stainless smart tip.
Drawbacks
A bit light, smaller cutting diameter.
Extra features
Dual O-ring system.
Buying advice
The Jak-X should be used with 2 O-rings (included)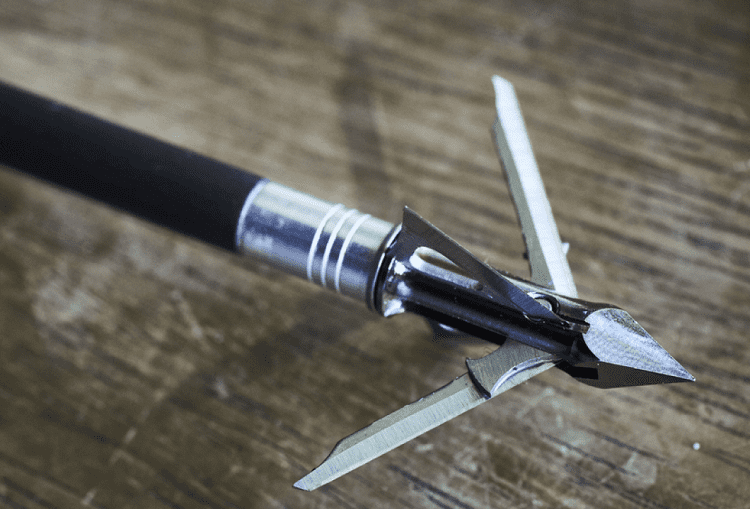 Now that we've introduced you to our favorite broadheads on the market, it's time for us to get down to those important questions. 
Especially if you are new to crossbow hunting, you probably have questions about selecting the right broadhead, and how to equip your crossbow bolts or arrows, so that you have good accuracy, distance and precise wounding shots. 
The reality with broadheads is that selecting the right one for your application will depend on your preference, what kind of broadhead you are comfortable with and over time, which brands give you the best results. 
Finding the right broadhead really comes with practice and time. Many crossbow hunters try many different kinds of broadheads, from a variety of manufacturers, with a variety of features, before the find the ones that give them the best results, for each game animal they are hunting.
With that said, game animal does make a difference in the broadhead you select. Make sure that you are using broadheads that match your game. 
Otherwise you may find that your kill success is not  great. This is especially important when hunting large game. 
The right size and grain broadhead will result in sufficient blood loss to create an easy to follow trail, and hopefully will result in a single shot kill. 
Using the right broadhead for the game means a more humane hunt. This is not only good for your ability to track your target, but it is kinder and less stressful for the animal you are hunting. 
Now, on to the answers to the big questions. 
Is there a difference between crossbow broadheads and regular broadheads?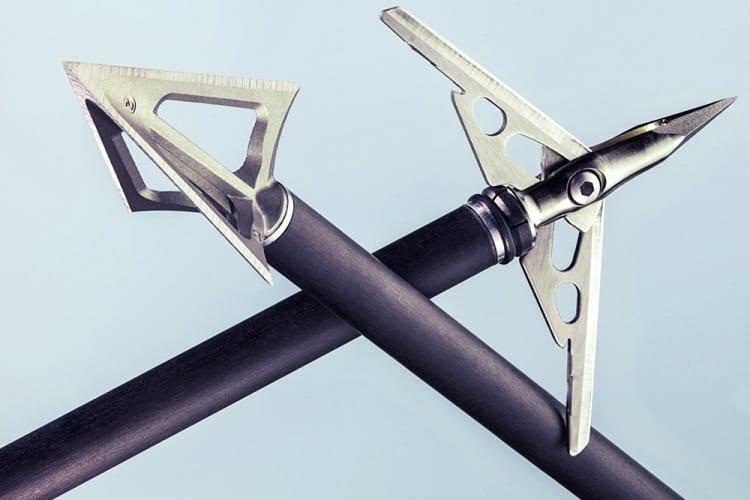 The answer to this question is, there can be differences between crossbow broadheads and regular broadheads.
However, these differences are generally very minimal, and in reality, you can use compound bow broadheads just as effectively in your crossbow as in your compound bow.
There are a few considerations that you do need to keep in mind when you are selecting broadheads for your crossbow.
Manufacturer
You get what you pay for here. Whether you are shopping for your compound bow or your crossbow, don't be cheap.
Select broadheads from manufactures that are reliable and come with a good reputation.
Using a subpar manufacturer may mean you save a few dollars, but in the end it could cost you the trophy of a lifetime, and that isn't what you want to do.
Additionally, the manufacturer of your crossbow may have a complete line of bolts and broadheads that are made to work with your particular crossbow.
It can be a benefit to use these coordinating products. In theory, they should be produced to create the ideal shooting experience.
That isn't always the case, but if you are new to shooting a crossbow, it can be a good place to start.
Grain weight
In general, you can shoot more effectively with your crossbow with a heavier grain broadhead. 
Your compound bow will do just fine with lower grain broadheads, but with more speed from your crossbow, and a shorter arrow, you will want to add weight for accuracy and control.
Crossbow Only
Some broadheads are designated as crossbow only. 
Like with purchasing coordinating products, you may find that broadheads designated specifically for your crossbow may bring better results.
Practice Heads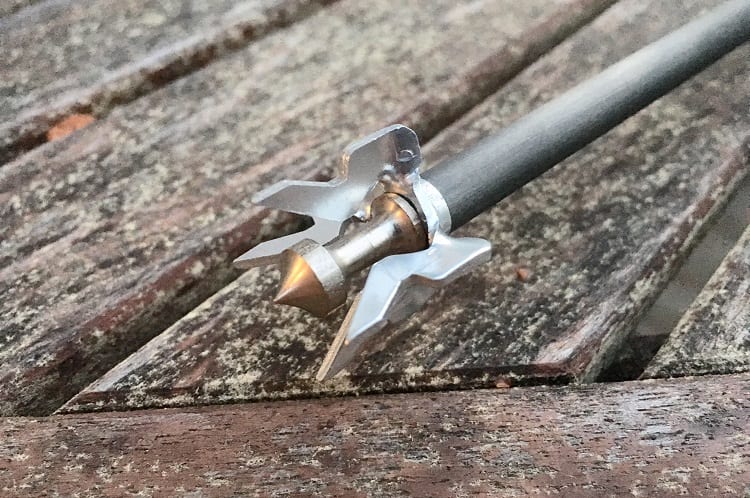 It's a good idea to look for broadheads that come with a practice head in the package. 
Practice heads will give you a good way to try out new broadheads, without dulling the ones you will hunt with, and without destroying your targets. 
Practicing will make a difference in how you decide which broadhead to use. 
If you can buy practice heads separate from a regular package, it can give you a good way to keep your skills up during the off-season, and can give you a better idea of which broadheads you feel most comfortable with come hunting season. 
Also, keep in mind broadheads are made very sharp, and if they are dull from being used repeatedly during target practice, they may not be as efficient for making a kill. 
An ineffective shot at a target can make tracking your animal more difficult, and can be inhumane. 
Good hunters will always strive for a humane kill. When you can use practice broadheads for practice and save the real deal for the hunt.
Fixed vs. Mechanical vs. Replaceable
You have three options for broadheads. Which you select will really depend on preference, your target and what works best with your particular crossbow. We'll cover this topic more, shortly.
Bolts/Arrows
Bolt or arrow grain weight matters too. Make sure that your combined weight (broadhead plus arrow) won't slow you down or reduce accuracy. 
Your crossbow manufacturer may provide you with recommendations on the best performing, total grain weight for your particular crossbow. 
If you need a starting place, this a great way to start. 
As you get more comfortable with your crossbow, you can start experimenting to see what works best with your pull-weight and personal preferences.
What is better, fixed or mechanical broadheads?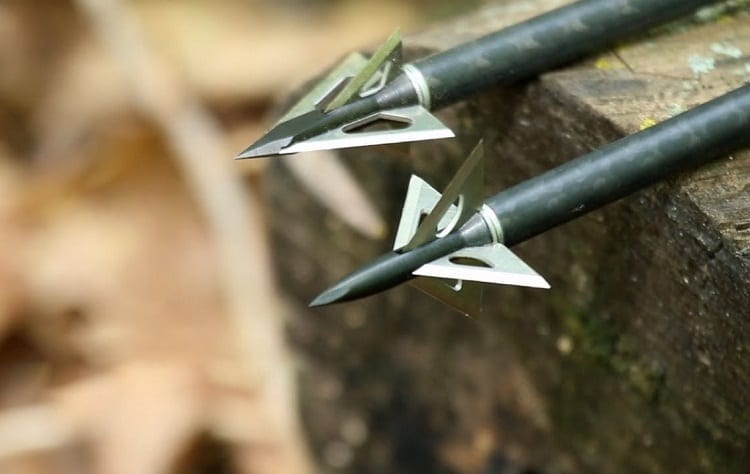 The answer to this question truly lies with application. Both fixed blade broadheads and mechanical blade broadheads have times when they are the right choice. 
You should understand the pros and cons of both types of broadhead, and the hunting situations that they are most beneficial, before you make your decision.
Fixed Blade Broadheads
Fixed blade broadheads are often considered a reliable, and strong option for most hunting applications. 
Fixed blade broadheads generally have blades that run the full length of the ferrule, which makes them strong, and more structurally sound than mechanical broadheads. 
Many bow hunters prefer fixed blade broadheads over mechanical broadheads, simply because there aren't any moving parts. 
A disadvantage to fixed blade broadheads is that if they hit a rock or bone, they can be damaged. 
Once your fixed blade broadhead is damaged it shouldn't be used again, as it will not be as effective at cutting through flesh and making a solid shot. 
You can avoid this problem by using a replaceable blade, fixed blade broadhead.
There are two types of fixed blade broadheads, the chisel point and the replaceable blade that you will want to have in your arsenal.
Chisel Point
This is the traditional style of broadhead blade. This style has been used for hundreds, if not thousands of years. 
Basic chisel point blades were made from stone by native hunters, and nomadic peoples, long before the development of metal cutting tools. 
These strong and reliable blades are meant to slice smoothly through hide before the blade, allowing the arrow to maintain speed and kinetic energy as it travels through muscle. 
Additionally, chisel point broadheads generally are better at hitting bones without damaging the blades. This makes the reusable, and a good choice for the hunter on a budget.
Replaceable Blade
Replaceable blade broadheads give you the same level of reliability as the chisel point blade, but with the added bonus of being able to repair the broadhead should a blade be damaged by bone or hitting a rock. 
If the body of the broadhead isn't damaged, replacing a blade can save time and money. And they eliminated the need for a full replacement, which can be a time saver in the field.
Mechanical Broadheads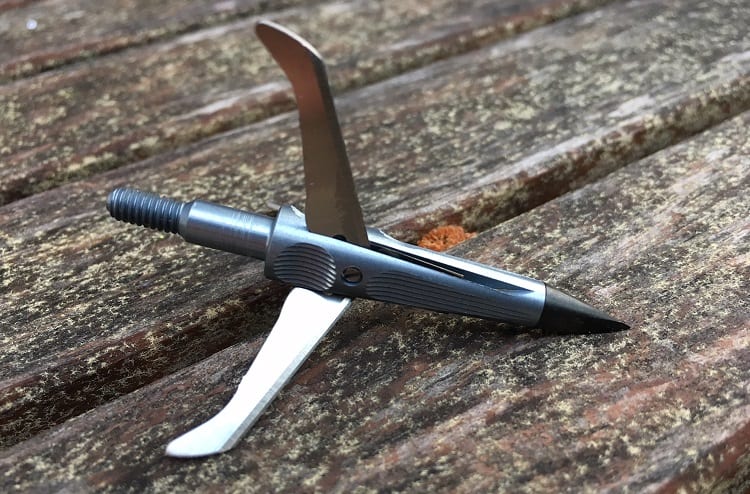 For many hunters, the deciding factor between fixed blade and mechanical blade is target species. 
While fixed blade broadheads are reliable, and do a good job of cutting through flesh without losing kinetic energy, they may not always be the best choice, especially if you are hunting large game animals like moose, caribou, or large brown or grizzly bear.
Many crossbow hunters prefer mechanical broadheads over fixed blade broadheads because they are more streamlined, and have better aerodynamics. 
Because of the high speeds that your crossbow fires at, combined with a need for a heavier grain weight, improved aerodynamics can significantly increase accuracy and travel distance from your crossbow. 
Mechanical blade broadheads can also give a larger cutting diameter, which means increased blood loss, for easier tracking and a more humane kill.
One of the largest complaints about mechanical blade broadheads is that the motion of the blades opening, reduces the kinetic energy of the arrow, as it hits your target. 
Reduced kinetic energy can slow the arrow as it passes through the animal, which could result in not complete pass through or a need for a second shot to kill your target. 
However, this can be reduced by doing through research before buying, and buying the right mechanical head for your intended target species. 
So, which is better? Both are great in the right application. And it truly depends on your preference and which style you feel most comfortable hunting with.
What grain broadhead should I shoot?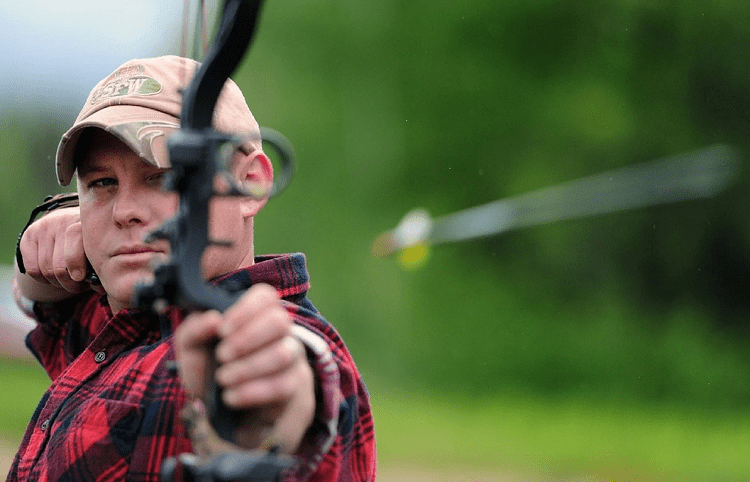 Before we delve into what grain broadhead you should use, it is helpful to understand exactly what "grain" refers to. 
You will see this term on broadheads as well as arrows and bolts. Understanding what this means and how it impacts your hunt, is rather important. 
In the simplest of terms, grain is another word for weight. The smaller the grain number, the lighter the broadhead. 
Combine this with the grain of the arrow or bolt you are using, and you have the total grain weight of the arrow or bolt you are using. 
Selecting the right grain for your broadhead will make a difference is travel speed, kinetic energy, and making an accurate and effective hit on your target. 
Selecting the right grain broadhead can mean the difference between a successful hunt and going home empty handed.
There are two common broadhead grains, for both fixed and mechanical broadheads. 
The standard grain, and the one that you will likely find the easiest to find in your local hunting store is the 100 grain broadhead. 
These are considered a "light weight" broadhead. They fly fast, and can give you good, consistent speed which is great if you are shooting from a longer distance. 
However, this is not always desirable, especially when you are shooting a higher power crossbow. 
The 100 grain broadhead is also a good option for smaller game species, since slowed speeds at impact will likely not result in a shot that bounces off your target or stops when it hits bone.
If your desired target is a larger animal, or if you've had issues with bounce back with 100 grain broadheads, you will want to consider a slightly heavier grain. 
125 grain broadheads are a good, all-around broadhead. Mechanical broadheads, at 125 grains, shot from your crossbow are highly accurate, and can make a clean, effective shot on larger target species. 
The heavier 125 grain broadhead will also reduce the chance of your arrow bouncing off of bone, resulting in a missed shot. 
Both fixed and mechanical broadheads come in this heavier grain, and many hunters, when they've used them a couple of times, prefer the higher grain as a way to improve accuracy. 
Do make sure that you practice with heavier grain broadheads, before you are in the field, so you know how they feel coming off your crossbow.
Do mechanical broadheads open on impact?
Mechanical broadheads will open either at impact with your target, or very shortly after making impact.
Selecting which is best for you will depend on your desired total grain, and what kind of target species you are hunting. 
For smaller game, you will want a broadhead that opens at the time of impact, so to reduce the loss of kinetic energy as the arrow passes through the body. 
For larger game, select a mechanical broadhead that is heavier grain, but has a cutting point, that will slice through the flesh, just before the blades open. 
While this will create reduced kinetic energy, the higher grain weight, combined with the speed from your crossbow, will push your arrow through the body with plenty of force, and without the worry of bounce back.
So there you have it. Our thoughts on broadheads for your crossbow, and what works best in most applications. 
We hope that our hard work has given you a great place to start when you head out to buy your next broadheads. 
If we missed a product you like, or if you have other thoughts about our frequently asked questions, let us know in the comments. Happy Hunting!
Did you like the article? Please rate it: