Archery has become more popular than ever, why?
Because everyone can do it and enjoy the experience.
There is a good share of archery ranges in the US – in fact, there are twice as many archery ranges as there used to be 10 years ago, with a ton of upgraded features.
With so many great places to learn, practice, and compete in archery, whether you are looking to shoot a bow and arrow for the very first time, or you are a talented target shooter who's ready to take aim at your first archery big-game hunt, we want to help you take your "game" to the next level.
A great place to start your archery hobby is at an established range with quality instructions.
But as most avid archery enthusiasts are aware, there is a huge range of quality in the archery range arena – there are certainly a lot of 5-star ranges, but there are more often than not a lot of sub-par or below-average ones.
That is why we took upon ourselves to spend hours combing over data and deciding on what we determined to be the best archery ranges in terms of size, targets, technology, and offerings and created this list of top archery ranges around the US.
This is by no means a complete list of all the coolest places to learn, practice, or compete in archery in the US but we think it will surely get you started on the right path.
North Texas
Cinnamon Creek Ranch
Just minutes from the Dallas/Fort Worth Airport is the foremost facility in North Texas for archery and the perfect choice for family fun, parties, team building activities, meetings and even date night.
Cinnamon Creek Ranch offers an unprecedented 80-acre archery facility, featuring 3 indoor shooting ranges, 2 outdoor practice ranges and multiple 3D ranges.
The indoor ranges can accommodate anything from small groups to a large tournament, complete with bleachers.
The outdoor ranges are designed much like a golf course. There are five outdoor courses in total, and many stations feature 3D targets that you can shoot from up to 45 yards away.
One course is even set up like a true hunting course with lock-on stands, tripods, elevated box blinds, pop-up blind, turtle blind and more.
You can do everything here from mud runs, archery tag parties, summer camps, and even ax throwing. It's also perfect for hosting a beautiful rustic wedding if that's your style.
The best of the best visit Cinnamon Creek all year round for national tournaments as well as Cinnamon Creek Ranch's own local tournaments.
Organizations such as Texas Field Archery Association (TFAA), Archery Shooters Association (ASA), and National Archery in Schools Program (NASP) all have tournaments there, bringing in archers from all over the country.
They have the facilities to host any kind of competition from traditional archery to 3D life-size target shooting tournaments.
As one of the premier archery facilities in the country, they have something for everyone, regardless of age, from the beginner to the professional.
Located at 13794 Old Denton Rd., Roanoke TX and Open 7 Days a Week 9:00 am – 9:00 pm PHONE: 817-439-8998
South Texas
Archery Country
Welcome to one of South Texas's premier ranges. It's well lit, comfortable and boasts tournament quality shooting. They offer beginner kids class, intermediate kid's class as well as open range time.
Private lessons are also available for kids and adults and they provide all the equipment needed.
So whether you're practicing for Nationals or just keeping in tune for the upcoming hunting season, Archery Country's range has what you need.
The pro shop has everything you need to get your bow shooting properly. If you need tuning, maintenance, or just want to upgrade they can handle it.
The pro-staff there was always willing to give expert tips and advice to make sure you're shooting is spot on.
So, no matter if you're brand new to archery or an elite archer they will treat you like a pro. This is an indoor range you won't want to leave.
Check them out at 8121 Research Blvd Austin, TX or give them a call to reserve some bow time. (512) 452-1222.
Open Tuesday through Friday- 10:30 am to 7:00, Saturdays – 10:00 am to 5:00 pm, but Sunday and Monday – they're closed
New Jersey
The largest archery club in New Jersey, Wa-Xo-Be Archers, is comprised of archers of all skill levels, from beginner to professional.
All are dedicated to promoting and developing the sport of archery and making it accessible to individuals of all ages.
Wa-Xo-Be Archers are one of the oldest archery organizations in New Jersey and one of the most well known in the National Field Archery Association (NFAA).
Featuring a state of the art indoor range as well as extensive outdoor ranges.
The range facilities feature a 5000 sq. ft. indoor range, a 28 target outdoor range, two practice ranges, a clubhouse, and picnic area all nestled into a beautiful tree-shaded setting.
By far one of the best memberships in the country. Membership at WA-XO-BE Archers includes a host of features not found in the average archery club membership.
Two of these great benefits: 24/7 access to all their range facilities and use of the repair workshop (indoor range), at your convenience, are what make this place special.
Wa-Xo-Be Archers host many archery programs and events for beginners to seasoned archery enthusiasts.
One of the most popular programs is the "Friday Night Introduction to Archery". You can participate even if you are not a club member.
For just $10 for adults and $5 for youth per session, non-members will be provided with access to state of the art archery equipment suitable for beginning archers.
Sessions are supervised by USA Archery certified instructors.
Through the years the club has produced countless state champions and numerous national champions but no matter your skill level, you will feel at home at Wa-Xo-Be at 53 Major Rd Monmouth Junction, NJ
San Diego
At LionHeart Academy you can enjoy archery, fencing and even medieval sword-wielding year-round.
LionHeart Academy offers a multi-purpose 6,000 sq. ft. gym facility featuring includes a 20-meter archery range and six state-of-the-art overhead scoring machines for fencing.
They have a cushioned rubber floor, a full-service equipment armory and a nice pro shop.
The indoor archery range is perfect for tuning your skills for outdoor distances or maybe training for Junior Olympic competitions.
They're an archery and fencing club situated in El Cajon, 1331 N. Cuyamaca St.
They are home to East San Diego's only indoor archery range, with classes and range time available year-round with a variety of pricing options to fit your needs.
Denver area
No Limits Archery
"The best place to shoot archery in the Denver area."
No Limits Archery is a formidable foe for all the archery ranges around the Denver metro area because it is unquestionably the biggest one around.
Found in Denver proper, the indoor archery range has 38 lanes at 20 yards distance and 8 lanes at 30-40 yards distance.
Their outdoor range has sight in bales out to 100 yards, and in the summertime, they open up a 20 target 3D range for the daytime hours.
We found the range fees very affordable, In addition, they have a DART target system that you can try out!
No Limits Archery has it all for you, no matter if you are a beginner or seasoned archer. They are a full-service pro shop and have the leading archery facility in the state.
If you are just starting out or needing assistance with getting started they have professionals that are there to help you get into the bow that works best for you.
To add upon that, No Limits Archery offers all levels of lessons, shooting leagues, workshops, and seminars for people who are serious about learning more about archery!
Located at 3050 E 78th Ave, Denver, CO they are closed on major holidays and Sundays throughout the big game hunting season, of course.
Otherwise, they are open 7 days a week! Monday – Friday 10am- 9pm, Saturday 8am- 5pm, Sunday 10am- 5pm.
Bay area
San Francisco Archers
Founded in 1946, San Francisco Archers (SFA) is a non-profit volunteer-run archery club.
Dedicated to fostering, promoting, and perpetuating archery, they are one of the largest and most diverse archery ranges in the country.
The range is one of the larger well-maintained ranges in the Bay Area boasting two separate field ranges (56 targets total), a hundred-yard target range, as well as a practice range.
The three features we find most appealing are the White Range, Red Range, and The Blue Range.
The White Range is one of the two field ranges. It is considered the "easiest" of the two field courses with relatively flat areas. However, there are steps and hilly areas in some aspects of the field. The White Range primarily has field and hunter targets. There is a beautiful 80 yard shot across Broadhead Lake.
The Red Range is the second of the two field ranges. It is considered the more difficult of the two field ranges with some targets that are at a 15+ degree angle to the archer. It also has a lot of steep steps and goes around a good-sized hill. It is not recommended for archers who have mobility issues. It primarily has hunter and animal targets located on a woodland course.
The Blue Range is a long, flat 100-yard target range. There are 10 large target bales where archers can practice at varying yardages with distance up to 100 yards. It is located to the left of the Practice Range up a small hill.
SFA relies heavily on the loyal volunteer members who volunteer their time and energy to maintain the property and host events.
The members work year-round to maintain the ranges through range maintenance days.
They also teach community programs and work the yearly archery tournaments, which creates a huge family environment.
To promote and perpetuate archery, for anyone interested in starting or improving their archery skills, San Francisco Archers offers two distinct archery programs:
Archery Outreach — a one-time group class that introduces you to the basics of archery.
Junior & Adult Development Program — a multiple-week archery program geared towards the individual archer.
If you find yourself in the Bay area head over to SFA, Lundy Way & Rifle Range Rd Pacifica, CA with everyone in tow.
Chicago
The Archery Place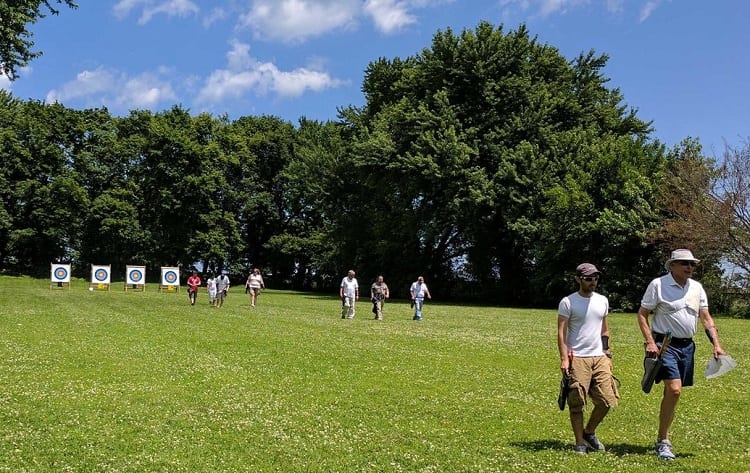 Welcome to your gateway into archery for enjoyable fun, sport, recreation, and hunting.
If you've never tried archery before and want to give it a shot, The Archery Place is where you need to go. Experienced or not, you'll enjoy what they have going on here.
The Archery Place is a 48 target, dual archery facility, retail, and repair shop.
They also offer compound bow classes, recurve, compound, and crossbow rentals, and parties for ages 5 through adult.
They hold archery special events and group outings throughout the local communities for all ages and will offer leagues and tournaments
What if you don't have your own equipment?
You won't feel left out at The Archery Place. They have a wide range of bows for you to test out and use at the range.
Whether you're looking for a crossbow, recurve bow or a compound bow, they have what you need so you can experiment.
They specialize in classes, camps, scouts, corporate events and awesome birthday parties.
The Archery Place is veteran-owned and run by a family just like yours.
Don't feel intimidated by experiences with unfriendly traditional archery shops or uncaring big box retailers trying to sell you the latest bow or outlandish hunting trips.
You won't find that high-pressure stuff here.
The first step is simple. Just get involved and try it out. That's where your great experience begins. If you're not ready for classes, then go in and rent a bow and give it a shot.
Whether your brand new to archery and have never tried it before, or a seasoned bowhunter or competitive target archer, everyone is treated with respect, honesty, and is never less equal than the next person.
They are open 7 days a week 10 am-9 pm and located at 1725 Crescent Lake Drive B, Montgomery, IL
Las Vegas
Impact Archery
Las Vegas has no shortage of entertaining past times to keep you busy for months on end.
The next time you find yourself in Sin-City however, escape the heat and go check out the coolest 3,300 SQFT Las Vegas archery range.
Impact Archery is a leading pro shop in all of Nevada, with a large showroom full of gear as well as the largest indoor range Las Vegas can offer.
Impact is the largest and newest archery shop in Vegas, featuring the only shop with 20 lanes, custom bow racks, a lounge area, and a full-service pro shop.
Impact Archery is also the shooting home to 2 NFAA professional shooters in Las Vegas so you'll be in good company.
They offer a pro shop, private lessons, and events where you can receive monthly and yearly memberships at substantially lower prices than at other ranges.
Oh, and they have ARCHERY TAG!
Similar to paintball, you eliminate your opponents and score points to win in this 15 minutes a fast-paced game, where shooting your friends, family and strangers with a foam-tipped arrow is encouraged.
Perfect for the whole family.
This premier archery range in Las Vegas is located at 6323 Dean Martin Drive Las Vegas, NV and open 10:00 am – 8:00 pm daily.
So give them a call and book your next Vegas vacation memories. Call them now, 702-701-7766.
Conclusion
Archery is increasing in popularity every day – and in the US, more and more people are realizing a new-found passion for the sport.
With the increase in interest, places to practice archery are popping up all over the country.
The new state-of-the-art facilities, 3D targets, and gameplay help encourage young and old to gain interest in the sport.
Practicing on targets, honing skills and meeting fellow archers are all great reasons for getting into the hobby but don't forget to leave room for plenty of big game hunting.
With so many different places to practice archery in the US, it can be difficult to narrow down your options.
If you find yourself in this predicament, we encourage you to visit any one of these archery ranges listed above, especially if you want to take your game up a notch.
Always remember, whether you're at the range or out in the forests, remember to stay safe and have fun.