[lmt-page-modified-info]
Sometimes, you just want something realistic to shoot at.
When it's not hunting season (or at least a season you want to hunt in), it can get boring to just shoot at a paper target.
Sure, paper targets have their purposes, and they are fine to help tune up your range accuracy, or to test out new arrows or a new bow, but that's about the extent of the practice that you get with a paper target.
Table could not be displayed.
Lots of hunters like to use a 3D target to practice with, in the off season, or just before their preferred season opens.
These handy tools for your archery practice, allow you to shoot at a realistic looking archery target, and learn to accurately hit the correct part of the animal that you are hunting.
These targets can make your hunting trip more successful, and honestly are a lot more fun to take aim at, than a paper archery target.
If you are new to shopping for a 3D target, you might be wondering which product is best for you.
Sure, you can search the internet, and do some research, but when it comes down to buying, it can seem overwhelming all of the options there are to choose from.
That's where this review comes in handy.
We've done our research, hunted out the best 3D targets on the market, and we've tried them.
We've read numerous reviews on the internet, and compiled all of the most useful information here.
In this review, we'll breakdown the best 3D targets on the market, giving you the pros and cons, and then we'll answer your questions about 3D targets, so that you'll be prepared to buy the best product for your needs.
Our Reviews Of The Best 3d Target
#1 Shooter Field Logic 3D Archery Hog Target
Shooter Hog is a great alternative to high priced 3-D targets for the casual or serious hunter.
This product offers a solid body design with scoring ring at the vitals.
Get ready for your next hog hunt with this realistic 3D Archery Target by Field Logic.
It's made to be tough and realistic and the scoring rings at the vital areas allow you to track and score your progress.
Great for realistic target practice or for 3D target competitions.
The target is constructed of strong, weather-resistant, high-impact foam and can withstand hundreds of shots from field points, broadheads and expandables.
This is a 1-piece target for easy transport and storage. Plus, it has a true-to-life look to enhance your practice.
Upgrade your practice from paper to 3D.
If you are thinking about going on your first hog hunt, make sure you prepare adequately by honing your archery skills on the Shooter® Hog 3-D Archery Target.
Based on the well-received Shooter Buck platform, the Shooter Hog target is a solid body target, free of a replaceable core.
Perfect for practicing on a target that resembles the game you will be going after, the Shooter Hog 3-D Archery Target is also a fun target to shoot at.
This 3D target for a realistic practice features,1-piece, weather-resistant, high-impact foam construction.
It can withstand hundreds of shots and looks true-to-life. The scoring rings at optimal vital areas provide for a more productive practice.
This 3D target is great for practice or target competitions. Ground stakes are included, to keep your target firmly in place.
Featured specs
Works with field points, broadheads, and expandables.
Benefits
Realistic design, well-constructed, arrows pull out easy.
Drawbacks
Vital zones are not correct.
Extra features
Scoring ring in vitals, includes ground stakes.
Buying advice
Also available in turkey, bear and buck.
Technical specifications
Size: 19"H x 32.5"W
Weight: 9 pounds
Material: High-impact foam
Reusable: Yes
#2 DELTA 51490 Bloodline Buck, X-Large
Delta McKenzie's Bloodline Buck 3-D archery target is made with FlexFoam for exceptional arrow-stopping power, durability and simple arrow removal.
The Delta 3D target easily stops arrows traveling at speeds of 300 – 350 fps.
It features a large body and aggressive appearance with a removable vital area target that makes this 3D target exceptionally useful and reusable.
Another intriguing note about this target is that it is rugged enough to withstand use with field tips, thereby making it long-lasting and that makes it worth the higher price.
This Buck is life like and attractively detailed with impeccable markings.
The replaceable  IBO score area is durable and features a twist lock assembly.
The scoring lines are easy to see and the target features removable antlers.
At the base of the Delta Target product line is the legendary line of 3D Deer Targets.
Generally, Delta McKenzie's Bloodline Buck 3-D Archery Target is widely recognized for its realism, durability, and affordability and that is why it's a natural addition to the list of the archery targets you should consider.
This is a great target. It's even durable enough to take out into the field to practice with.
The size is smaller than a younger whitetail deer but big enough to give you a good feel for a real shot.
The connection of how the antlers attach to the head is a little questionable but I don't use them much anymore anyways.
You could probably just glue them in if you wanted them to stay on more securely.
Featured specs
Crossbow approved.
Benefits
Large target, lifelike, any kind of arrows.
Drawbacks
Antlers fall off, legs are wobbly.
Extra features
Comes with mounting stakes has a replaceable target core.
Buying advice
Both the body and the core can be replaced when they wear out.
Technical specifications
Size: X-Large 35.13 x 18.13 x 16.38
Weight: 26 pounds
Material: FlexFoam
Reusable: Yes
#3 Delta McKenzie Strutter Turkey
Backyard 3D targets are great choice for affordable fun and durability.
The realistic size and appearance of the new one-piece Strutter Turkey 3-D target from Delta McKenzie provides true-to-life practice scenarios for turkey bowhunters.
Bowhunting success in the spring woods begins with practicing on a lifelike backyard target such as the new Delta McKenzie Strutter Turkey target.
The self-healing foam ensures durability and easier arrow extraction, with plenty of stopping power to prevent pass throughs from even the fastest crossbows.
The Strutter Turkey is rated for field points, fixed-blade broadheads and mechanicals.
The base of the Strutter Turkey offers stability during arrow impact and on uneven surfaces, so you can take multiple shots without having to reset the target.
The Strutter Turkey Archery Target is designed for backyard practice or for economical competition shooting and features a solid body constructed with Delta's Flex Foam.
Some of the best features of this target:
Self-healing affordable Flex Foam for longer lasting use.
Solid one-piece body design.
Ideal target for backyard shooting, no pass throughs.
Featured specs
One piece so no assembly required.
Benefits
Easy to pull arrows from, Astonishing realism, long lasting.
Drawbacks
Does not have a replaceable insert, small scoring ring.
Extra features
Support stakes included.
Buying advice
Get dialed in for spring turkey season.
Technical specifications
Size: 23"L x 26"H
Weight: 13 pounds
Material: High Density Foam
Reusable: Yes
#4 Nxt Generation Jumbo Deluxe Life Sized Painted 3D Inflatable Deer Target
THE MASTERS SERIES BUCK – Ultra-realistic buck decoy target for archery. Perfect for both play and practice.
This 58-inch, premium, 12 point Whitetail Deer target features the most intricate design ever released by NXT Generation.
This inflatable deer has a 6 inch VELCRO target area which is the perfect size to hone your child's archery skills.
This deer is 100% compatible with any hook-and-loop (Velcro) projectile as they all adhere to the target area for hours of safe target practice and shooting.
Durable and sturdy, this deer makes it easy to practice your skills indoors on a rainy day or outdoors in the sun!
Recommended for kids ages 5 and older.
Featured specs
12 point antlers, painted, compatible with NXT Generation ammunition.
Benefits
Most realistic looking, big antlers, large target area.
Drawbacks
Deflates easily.
Extra features
6 inch VELCRO target area.
Buying advice
No darts included, be sure to inflate and check for leaks upon arrival.
Technical specifications
Size: Package 12 x 9.1 x 3.5 inches, 58" tall
Weight: 1.58 pounds
Material: Poly Blend
Reusable: Yes
#5 NXT Generation 3D Inflatable Deer Target
Introduce your child to the NXT Generation Deer Target and watch their imagination take them to prime hunting grounds.
The inflatable realistic 3-D target offers excellent practice as well as hours of entertainment.
Set up the deer either inside or outdoors and let your kids first experience the joys of hunting.
The black hook and loop area marks the target area, hit that black 6 inch circle and watch as the hook and loop dart attach itself onto the deer.
A stuck dart is a successful hit. Recommended for kids age 5 and up Start kids off with an appreciation for hunting and safety with the NXT Generation 3-D Inflatable Deer Target.
This realistic 8-point buck stands at an impressive 48″ tall and has the lifelike markings of a whitetail deer.
Hook-and-loop projectiles adhere to the target area for hours of safe target practice and shooting.
Featured specs
4 feet tall with 8 point antlers.
Benefits
Lightweight, life-size, large target area, affordable
Drawbacks
Tips over easily, can puncture.
Extra features
Great use for either indoors or out.
Buying advice
No darts included.
Technical specifications
Size: 18 x 36 x 48 inches
Weight: 1.67 pounds
Material: Poly Blend
Reusable: Yes
#6 Nxt Gen 3-D Boar Target – Brown
Help hone your child's archery skills and make for fun target practice for your kids with this 3D, inflatable wild boar.
Deflate, then store away when it's finished being used.
This inflatable wild boar has a 6-inch target area that is marked in black for hook and loop (VELCRO like) foam darts.
This target was built for hook and loop or suction cup foam dart projectiles, not for real arrows.
This safety feature makes this target perfect to help your child learn to bow hunt, and even safer for use inside your home.
This life size inflatable boar target will give your child the opportunity to practice their shooting skills.
Featured specs
Has 6″ round hook and loop target area.
Benefits
Easy to store, light, tall, affordable.
Drawbacks
Punctures easily, not good outdoors if windy.
Extra features
Great for use indoors or outdoors.
Buying advice
No darts are included so be sure to pick some up.
Technical specifications
Size: 10 x 7 x 2 inches
Weight: 1.05 pounds
Material: Poly Blend
Reusable: Yes
3D Targets FAQ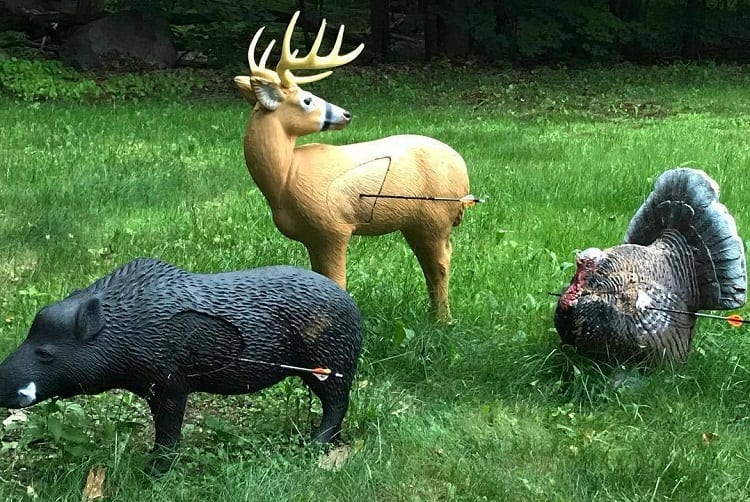 What are the benefits of 3d targets?
3D targets are really a great tool for bow hunters of all experience levels.
They provide the bow hunter with a more realistic practice experience than is achieved with paper targets.
Sure, paper targets have their use, and are great for helping you hone your range accuracy, and can be awesome for testing out new arrows, but after a while, they can be boring.
Here are some of the benefits of 3D targets.
Realistic Experience
Let's start with this one, since it is probably the most popular reason that hunters choose a 3D target.
When you buy a 3D target, you are getting a more realistic hunting target.
3D targets come in a variety of game animals, so no matter which game animal you prefer, you'll find a target that you can practice on.
What makes these targets so useful, is that they give you the opportunity to target in on the actual vital areas of the game animal you are considering.
When you practice on a 3D target, you learn how to aim for the most effective kill area on an animal.
This allows you to be more confident when you are in an actual hunting situation.
The ability to easily move these targets around, also allow you to practice hitting the vital area target from a variety of angles.
This makes you a more accurate shot, and in the reality of the situation, it makes you a more humane hunter.
With a better understanding of the vital area targets, and practice at hitting these areas, a 3D target will allow you to have a successful kill shot, which reduces the likelihood that you'll have to track down a wounded animal.
Reusable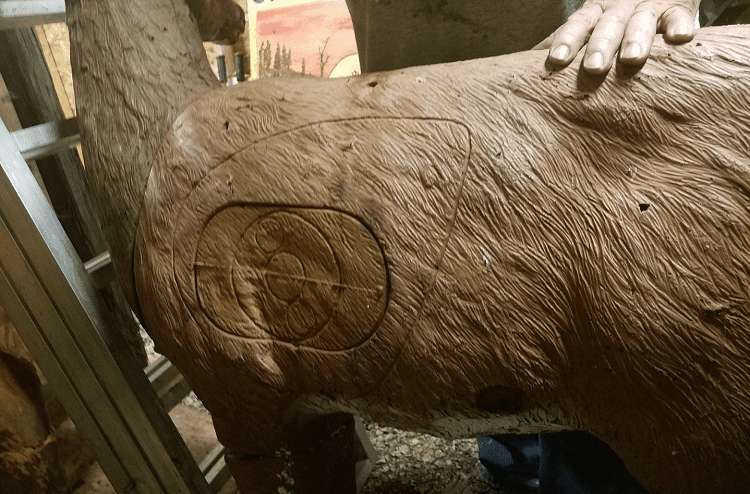 Paper and foam targets are fine, but after a while, you just have to suck it up, and throw them away.
Your 3D target is a great way to practice on a target that is not only realistic, but can be used over and over again.
Most 3D targets on the market today, have a removable vital area target.
This area is generally made of a flexible foam that can be used many times.
The advantage to this removable area is that when it has reached the end of it's life, all you have to do is remove this target, and replace it with a new one.
The rest of your target remains in-tact and ready to use.
Vital Area Scoring
When you elect to use a 3D target, you will be focusing your shots only on the vital areas of the game animal.
The goal of this is to allow you to become focused on hitting your target in the most effective kill areas.
Rings similar to those found on paper and foam targets, encourage you to aim directly at the locations on the animal's body where you will achieve a successful mortal shot.
This make your real-life hunting experience more successful, and more humane.
Versatile
Not only do these targets come in a variety of game animals, but they can be used in a variety of environments.
Set up your whitetail target in your backyard, and practice any time of the year.
Move your target into your favorite hunting spot to allow you to practice in a realistic scenario.
If you've got the space, you can even move your target into your basement or garage for indoor, bad weather fun and practice.
Affordable
Sure, you're going to have to drop some cash on the initial investment, but once you have a target in your possession, all you have to do is buy the replacement vital area targets.
The durability of the vital area targets are such that you can use them over and over, before you have to spend more on a replacement target.
This allows you to save money from season to season, on targets. Buy once, and be done.
What is the best target for deer?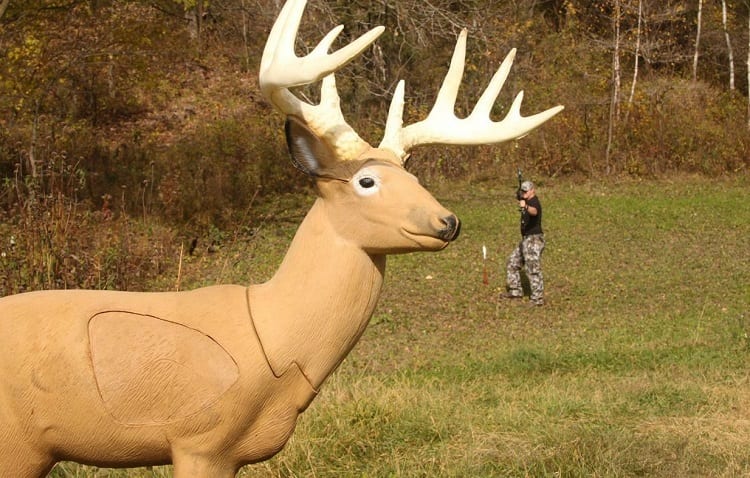 There are a ton of deer targets on the market. They all come with a variety of features that make them useful practice tools.
However, there are a few features that you should look for that make a deer target more beneficial.
Removable Vital Target – One thing to look for here, is a durable foam target that can be easily removed and replaced. Also, make sure the vital area is in the correct location on the target. Some targets 3D targets unfortunately don't have the vital areas in the correct part of the animal. This defeats the purpose of using a 3D target.
Realistic Size – A tiny target won't do you much good at getting a feel for the real animal. Make sure you get a 3D target that is fairly close to the same size deer you'll be hunting.
Removable Antlers – This is a handy feature. It allows you to practice hunting both buck and doe animals. Take off the antlers for does or to eliminate the distraction of antlers for younger or new hunters. Add antlers for a realistic buck hunting experience.
Tie Downs – Make sure your deer target has tie downs or stake loops so that you can anchor your target. It doesn't do you any good for a realistic experience if your target won't stay upright.
What is the optimal range for using 3d targets?
Consider placing your 3D target at similar distances that you use for your standard paper targets.
For beginners this means setting your target at around 20 yards.
As you become more experienced, or if you start using a crossbow, you will want to extend your target distance, to match your skills and the effective distance of your bow and arrows.
Keep in mind that the purpose of the 3D target is to give you a more realistic hunting experience, so make sure that you are setting up your target at a range that is most similar to what you will see in the field.
This will allow you to hone your skills and work on making an effective kill shot, in a more realistic practice environment.
Are 3d targets realistic (size)?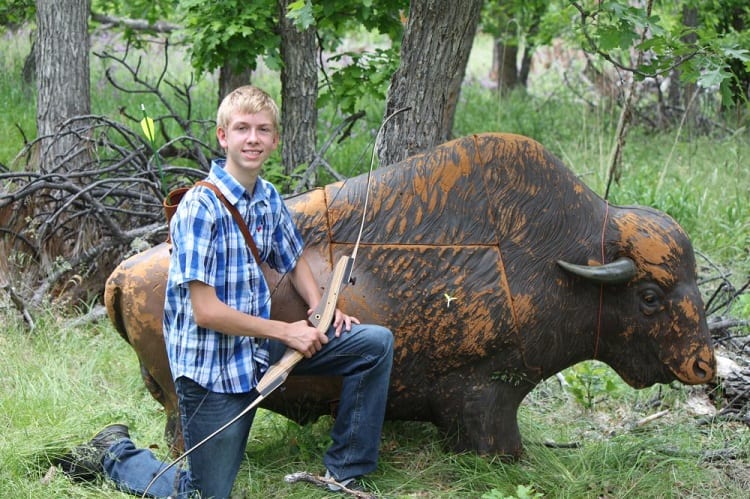 Yes, you can get targets that are realistic in size.
However, keep in mind that the more realistic your 3D target, the more money you are likely to spend.
The availability of realistic sized targets also depends on the animals that you are hunting.
3D targets are generally realistically sized for smaller game animals such as turkey and coyotes, larger game animals such as boar, deer, elk and bear generally come in smaller target sizes.
The most affordable, and most readily available targets are likely to be a bit smaller than the actual target animal.
This reduction in size makes them more maneuverable and allows the user to easily move the target from one location to another.
However, if you are prepared to spend some cash, you can find realistic sized, large game targets.
The downfall to the smaller size of most 3D targets is that your vital target area may be smaller than what you will encounter in a real-life hunting experience.
This can make practicing a bit more challenging than you might want it to be, however, on the upside of this working from a smaller target during practice means that in your annual hunting trip, you'll be more accurate and have a better chance at a successful hunt on a larger, game animal.
Conclusion
Bow hunting takes a lot of practice to be accurate and successful.
Paper and foam targets have their uses, but when you are preparing for an actual hunt, a 3D target is a great way to learn where and how to hit a game animal.
Yes, they are a bit more expensive than a foam target, but they are reusable and give you a more realistic practice experience.
Setting up a more realistic hunting scenario during practice can help lead to a more successful hunting season, and a more humane outcome for the game animal you are looking for.
Did you like the article? Please rate it:
You Might also like